Information > How We Clean


INTRODUCTION

to Pressure Washers & Steam Cleaners
and the
Four Elements of Washing
---
The Basics:
Four elements necessary for very efficient cleaning are:


| | |
| --- | --- |
| a. Flow - Flushing / rinsing | |
| b. Chemical - Detergent | |
| c. Pressure | |
| d. Temperature | |
Washing one's hands is a good example of "elements of cleaning" at work.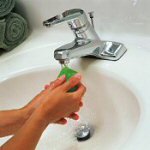 Knowing the nature of the contaminate you are removing, and how the above four elements affect the cleaning process, will greatly improve your chances of achieving your desired results. Simply thinking your way through the following three examples will help you decide if power washing will assist your cleaning project.


Yard work has contaminated your hands with mud.
In most cases, simply running cold water (Flow) from a faucet over your dried non-greasy deposit (the Contaminate), coating your hands (the Substrate) along with rubbing your hands against each other (Pressure), will remove the dirt. In some cases, adding mild Soap (Chemical) and Hot Water (Temperature) may speed the process and improve the results.



Automotive work has contaminated your hands with grease.
Unlike the above application, simple water and pressure is not enough. You would not think of adding Hot Water or a stronger Soap.



Painting has coated your hands.
Is it Water based or Solvent based? Obviously, the structure of the contaminant will determine if water, along with detergent, will clean your hands. In some cases, water alone has no effect on a Solvent based soil.



Varying any one of these four elements will change the cleaning characteristics.
* That is why Jenny Products offers over 217 models under 5 different cleaning categories: Cold Water Blasters, Hot Pressure Washer, Steam Cleaners, Combination Washer ( Cold / Hot / Steam on One Chassis), and Cabinet style Parts Washers.


DYNAMICS of four Cleaning Elements.

Changing any of these four elements can affect the cleaning process, cost of equipment, labor time and the end result of your cleaning.
Compensation can be made for deficiencies in any element. In other words, if you were to use a small amount of chemical, or a weak one, then by adding more heat or pressure, effective cleaning could be attained.



However, for any type of cleaning, there is always one combination of these four elements which produces the best results from a standpoint of time required, thoroughness of cleaning and cost.



When hands are simply coated with dried non-greasy deposit, water will wash it away. A higher volume of free flowing water will speed the process because the impinging force helps loosen the dirt and the volume floats or flows it away.

When dirt contains an oil, or grease, a chemical must be used. In the example of hand-washing the chemical is commonly referred to as soap. Because soap is an emulsifier, the hands can be cleaned, to some degree, using cold water. But typically the hands are rubbed briskly together to aid the cleaning process. The friction creates heat along with abrasive action or pressure to help loosen the dirt particles. In this case increasing temperature will allow the hand-washer to use a milder soap with lesser abrasive pressure. Conversely if hot water is not available the hand-washer may need to use a stronger soap along with greater abrasion to adequately remove the greasy dirt.

The dynamics of these four elements work in conjunction with each other. A qualified representative can help work with you to choose one of the over 217 models Jenny Products manufactures.


TYPES of CLEANING EQUIPMENT.
Hose and Brush - least expensive ~ but not necessarily the most cost effective.



Wash Sink - commonly used at repair facilities as a parts washer. Typically uses a Solvent Chemical that is recycled thru unit. Because of health concerns and environmental concerns these units have increasingly been replaced by heated aqueous (water based) cleaners.



Cold PRESSURE WASHER - also known as Hydro-Blasters.



Hot PRESSURE WASHER - typically operate at 180-210º F.



STEAM CLEANERS - a true Steamer produces around 325º F ~ low pressure mixture of 80% wet saturated steam. Not to be confused with Dry Vapor.



COMBINATION CLEANERS - 3 style cleaners on one chassis: Cold / Hot Pressure / Steam Cleaner changed by a toggle switch.



CABINET STYLE PARTS WASHERS - act like an Industrial "Dish Washer" for hot water cleaning in a re-circulating enclosed cabinet.



SPOT FREE WATER WASH / RINSE - used primarily on already clean inventory that has accumulated wind dust or rain spots. Where Appearance is Critical.



DRY or VAPOR CLEANER - hand operated sanitizer. Useful in areas where detail work is desirable or wetness cold become damaging.
WHY does Someone BUY Power Washing Equipment.
Cleaning for Appearance.


Cleaning before Servicing.


Cleaning before Re-Painting.


Cleaning before Selling.


Cleaning to Sanitize.


Increase Safety.


Reduce Time & Labor.


Typical APPLICATIONS:
Industrial


Automotive & Transportation


Agricultural


Food Service


Medical


Residential & Commercial