All electric hot pressure washers are ideal for indoor use or confined areas with all the advantages of an Industrial Steam Cleaner / Pressure Washer. They are environmentally friendly and convenient All Electric Cleaning.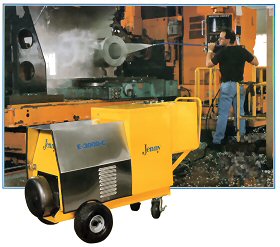 Total Electric Convenience - Unique electrical heating system is 98% efficient. Water is progressively heated as it passes over resistance elements wound WITHIN steel coils. Full 325º F Steam Cleaning mode or 200º F for Hot Pressure Washing are reached in 90 seconds. The heat is CONTINUOUS, so there is no large temperature fluctuation once desired temperature is reached. Unlike competitive batch heated units, Jenny's unique heaters will maintain the same operating temperature through the cleaning application.

Environmentally Friendly - No fossil fuel emissions, uses electricity for power and heat. No objectionable fumes, flames, smoke or airborne particles. This is a big benefit when working in sanitary and confined areas. It is ideal for indoor use, promotes a healthier work environment and a "Clean Air Plant". It is designed to meet the Clean Air Act, EPA and OSHA plant requirements.

Simple and Easy to Operate - Simplicity of operation. All controls are mounted in the electrical junction box in full view of the operator. Three simple steps are all that are required to do any cleaning; 1. Turn motor switch on; 2. Turn heater switch on; 3. Turn metering valve to choose the amount of cleaning solution desired for the job.

Reliability - Jenny's unique electrical heating system has been proven over 35 years of cleaning. "Steam Jenny" the name itself represents a tradition of quality and dependability, since 1927.