Information > Our History


THE VERY FIRST SPRAY CLEANER WAS A STEAM JENNY
75 YEARS LATER WE'RE STILL # 1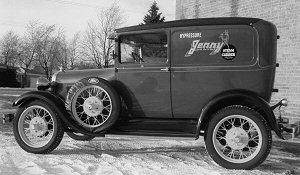 Original Salesmen's Delivery
recovered from Minnesota farm during 1970's and restored
to compete in the 1985 Great American Race from LA to NYC
JENNY PRODUCTS
The first Steam Cleaner was invented by Frank W Ofeldt II in 1927. Mr. Ofeldt worked for Homestead Valve Manufacturing Company of Coraopolis, Pennsylvania and became Chief Engineer of our Hypressure Jenny Division. In 1992, Jenny Products moved to their new "state of the art" plant and warehouse in Somerset, Pa., as part the Leiss Manufacturing group. Jenny's R&D is shared with its sister division of Leiss Ventilation, Emglo and Davey Industrial Air Compressors.

Click here to read more...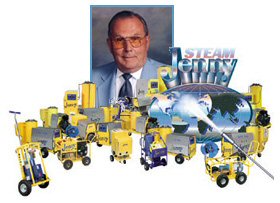 GAMCO
Don Gross founded Gamco Company in 1953 after selling Hypressure Jenny's for over 13 years. Gamco serves as an independent sales agent and warehouse for Jenny Products as well as other name brand USA Manufacturers. Don is one of Jenny's earliest salesmen and currently Oldest Living Salesmen.

Click here to read more...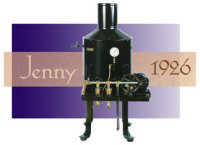 A BRIEF HISTORY OF CLEANING EQUIPMENT



Jenny, Malsbary, and Clayton were the initiators of the cleaning equipment industry in the 1920's. Jenny and Clayton distributed through automotive aftermarket distributors, whereas Malsbary gravitated toward industrial distribution. In time, Clayton developed other automotive products to compliment their line, and decreased their emphasis on cleaning equipment.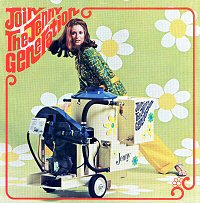 Malsbary and Jenny continued to concentrate on cleaning equipment, and dominated the field through the 1960's even expanding their cleaning equipment interests into other areas such as car washes.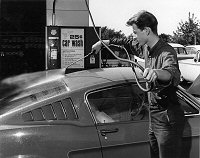 Jenny was a family owned and managed, engineering driven producer of heavy duty, well built equipment with a commitment to high integrity. Jenny regarded itself as a manufacturing and engineering firm, and as such, would willingly customize equipment. It prided itself on manufacturing as many components in house as possible.

Since the equipment was well built, it was expected to remain repairable for some years, and this provided an ongoing parts business. Today you can still find Steam Jenny's from the 50's and 60's that are operating. In fact, very often parts can be found for even the first ones produced in the early 30's.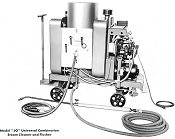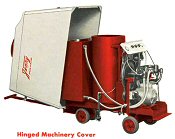 1940's 1950's

Newer competition produces a line of equipment that has evolved into a "throwaway" product. They do not produce "engineered" products; that is, they do not seek an optimal design from an engineering point of view - equipment that produces precisely the correct water volume, output temperature, heat transfer, pump pressure, and motor horse power at the same time. They are willing to compromise these considerations in the interest of low cost, low price, and the customer sometimes finds himself with a product that will not be able to adapt to his needs. Today, all of the competitors are 'marketers'. They build there business on marketing, not engineering.

Click to read more….